Get to know IDEM Diesel Engines Licensee of Mercedes Benz
We guide you...
Introducing OM 457 Euro2 Engine
The cylinder block is completely made of cast iron with complete cylinder and bushing. The oil filter, pump unit, fuel filter and oil level measurement are located on the right side of the engine (flywheel front side), and the starter, manifold are located on the left side. A belt in the shape of 9 connects of the water pump and the fan on it. Also, the engine has an oil pan made of cast aluminum.
The cylinder head is made of cast iron and is separate for each cylinder. The intake manifold and the cylinder head cover are all made of lightweight cast materials.
The crankshaft is made of one-piece alloy steel by forging method and with very precise machining. The crankshaft of this engine is held in 7 points by three-layer bearings, with steel backs (with a polished bearing in the middle). Also, the crankshaft is balanced by special weights.
The connecting rods like the crankshaft, are made of one piece by forging and with very precise machining and can be separated. The connecting rod is maintained by a three-layer bearing, with steel backs, and has separate bronze bushings for connecting to the piston.
The camshaft is made of a single piece by forging and with very precise machining and is maintained by 5 bearings. The camshaft provides its movement through the gear engaged with the crankshaft.
The pistons are made of cast aluminum and consist of 3 compression and oil control rings, and the piston and connecting rod in this engine can be removed from the top.
The valves are put to work by a combination of bracket, push rod, and rocking arms. Cast iron guide bushings and heat-resistant valve seat rings guarantee a long service life and maintenance period.
To use the fuel correctly, the direct injection method is used. The injection system includes a pump unit, fuel pump, fuel filter, multi-hole injector and an injection timing system.
Lubrication under pressure
Lubrication operation by means of a gear type oil pump that passes all the oil through the filter and feeds the crankshaft, camshaft, connecting rod, bearings and rocking arms. In this way, the injector pump, governor and air pump are connected to the engine lubrication system. In this system, safety valves are responsible for reducing excess pressure.
By using a centrifugal pump, depending on the application of the engine, air-to-water or water-to-water radiators can be used. The water temperature can be controlled using a thermostat.
This engine can be used as a reliable and reliable power source in industrial and commercial equipment, construction, agriculture, commercial vans, as well as a power generator source for all types of sea boats. According to the customer's request, this engine can be used for different purposes by being equipped with special tools.
Technical Specifications of OM 457 Euro2 Engine
Charts of Behavior OM 457 Euro2 Engine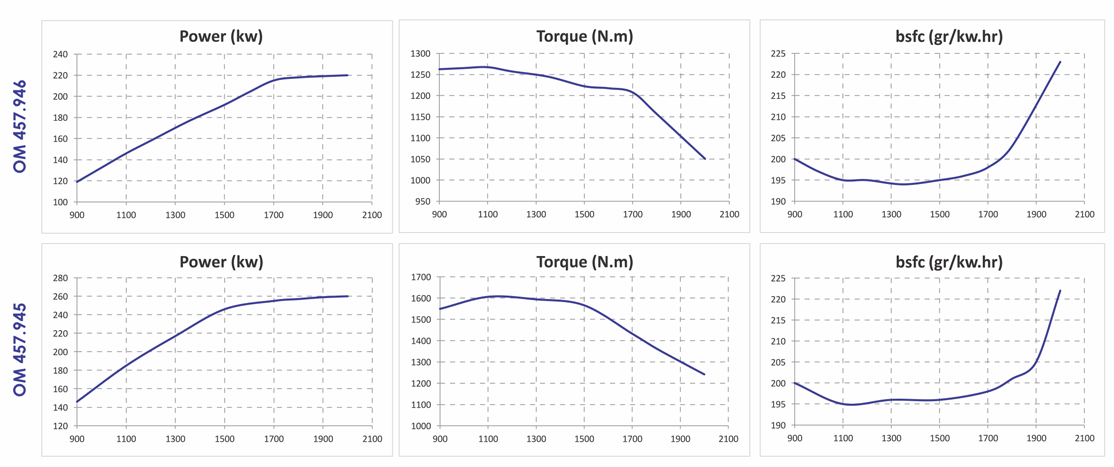 Specifications Table of OM 457 Euro2 Engine
| | | | | |
| --- | --- | --- | --- | --- |
| | نوع سیلندر | Inline/Vertical | Cylinders type | |
| | تعداد سیلندر | 6 | Cylinders | |
| | قطر سیلندر (میلیمتر) | 128 mm | Cylinder bore | |
| | کورس پیستون | 155 mm | Stroke | |
| | حجم موتور (لیتر) | 12 Lit | Total piston displacement | |
| | نسبت تراکم | 17.25:1 | Compression ratio | |
| | حداکثر قدرت خروجی (کیلووات) | 220~260 Kw @ 2000 rpm | Max output (Kw) | |
| | حداکثر گشتاور(نیتوتن/متر) | 1250/1600 N.m @ 1100 rpm | Max torque (N-m) | |
| | وزن موتور خشک(کیلوگرم) | 900 Kg | Engine dry weight (kg) | |
| | کنترل موتور | Electrical | Engine control | |
| | موقعیت نازل | Vertical | Nozzle position | |
| | سرعت متوسط پیستون | 10 ms @ 2000 rpm | Mean piston speed | |
| | فشار متوسط موثر | 9.16 bar @ 2800 rpm | Mean effective pressure | |
| | جهت چرخش(خلاف عقربه هاب ساعت) | c.c.w | Rotation | |
| | ظرفیت سیال خنک کننده | 15 Lit | Cooling water capacity | |
| | حداکثر ظرفیت روغن کارتر | 27.5 Lit | Max lubrication oil capacity | |
| | حداقل مصرف سوخت | 195 gr/kw.h @ 1400 rpm | Min. fuel consumption | |
| | سوپاپ دود | 2 | Exhaust valves | |
| | سوپاپ هوا | 2 | Intake valves | |
| | استاندارد آلایندگی با گوگرد کمتر از 0.05 | Euro II | Emission standard | |
| | سیستم ترمز موتور | Decompression Valve | Engine break system | |
Dimensions of OM 457 Euro2 Engine